Do you want to stop uTorrent from Opening on Startup windows 10? but you do not know how to do it. Then read the guide about How to Stop uTorrent from Opening on Startup windows 10 on Howtotechy.
How to Stop uTorrent from Opening on Startup windows 10?
Click To Tweet
Stop uTorrent from Opening startup windows 10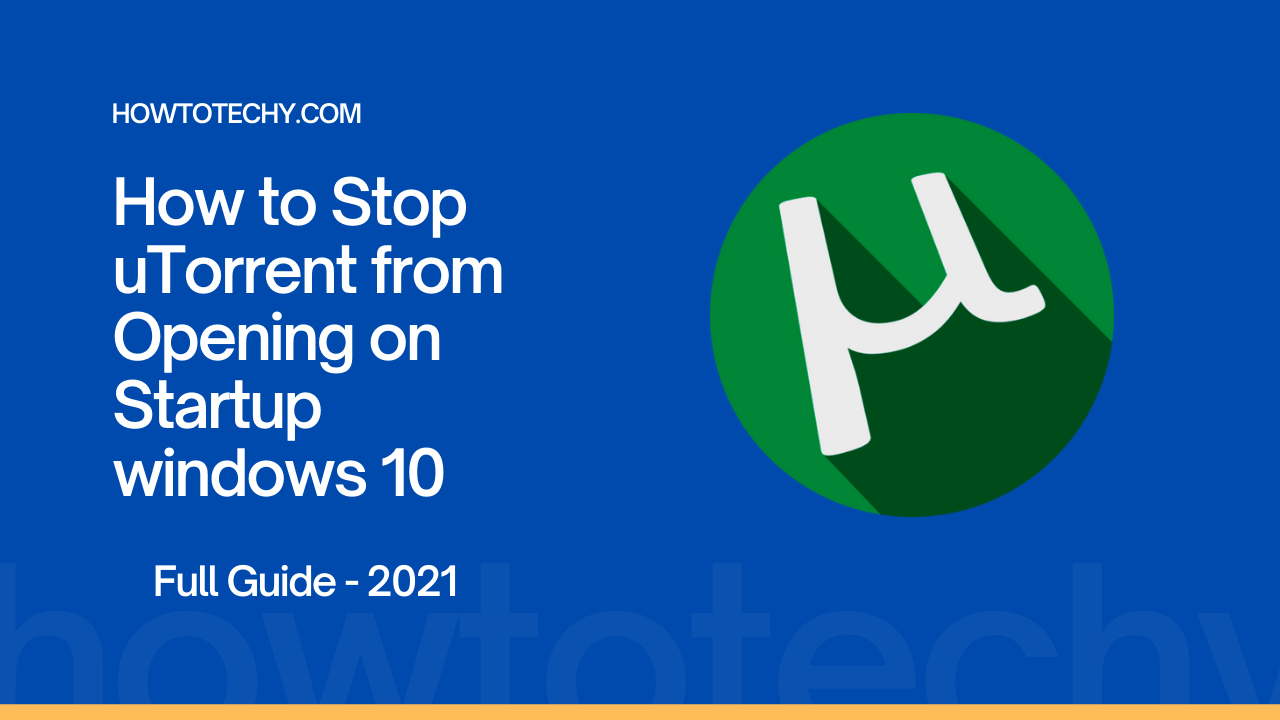 uTorrent is a proprietary adware BitTorrent client owned and developed by BitTorrent, Inc. with over a 200Million users. For the last few years, people are using more torrents and their users are increasing day by day.
uTorrent is well known and liked torrents all across the world. Though it indeed occupies a few resources than the other progress, most people do not like it to start up when opening PC Systems such as Mac, Windows, or Linus.
uTorrent is not an app that was used by users on daily basis but when it is used it opens startup on windows. If you are using the new torrent 2.0 you surely notice that this new version automatically opens the startup in windows 10.  so today I will solve your problem and I am going to give you a step-by-step guide on how to stop uTorrent from opening Startup windows 10.
How to stop uTorrent from opening startup windows 10?
There are many ways to stop the startup in windows 10 but I can only tell use some best ways to stop uTorentfrom opening a startup in windows 10.
Method 1: Adjust and utilize the preferences
Open uTorrent
Click on Options and you will see Preferences
Open [preferences and Select the General Option
Make sure that start uTorrent when win starts in unchecked.
If that is not then unticked this option and deselect start minimized
Apply all the changes and save then
Method 2: Change your windows settings
Click the window logo  that was in the bottom-left corner
Search for settings
open the settings
go for applications
click on startup
Select torrent from the list
Click off or on
Method 3: Remove uTorrent From the Startup directory
Open my computer
Go for Local Disk C
Enable show hidden files
Click the folder name as ProgramData
select Microsoft and then windows
Click on Start Menu
Select Programs and then click startup
select the utorrent folder
delete the data in the folder
Method 4: Disable some options
Try disabling these options:
Select Options
Click on preferences
Disable the close to tray option
Untick the start minimize option
These are some best and easy methods to stop utorrent from opening on Startup in Windows 10. Read them and select which one you want to do and do it and after following any method your problem of the torrent will be solved.
Also Read:
Final Words
These are some easy methods to stop uTorrent from opening on startup in windows 10. to stop opening startup is can e done in just a few single steps. Make sure to follow these steps carefully and follow them step-by-step.
I give you a guide on how to stop uTorrent from Opening on Startup Windows 10 so make sure to follow all steps. You can choose any method you want to stop opening a startup but in some cases, if that does not work you can use any other method given in the article.
Stay Tuned for more awesome content!